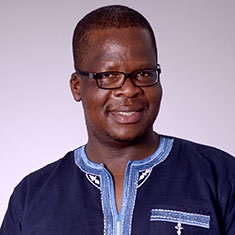 "Our Master in African Studies: Critical Perspectives on Society, Politics and Culture is top-class, well-conceived, with Africa and Africans at the centre not as objects but subjects of study. Africa is a legitimate epistemic site of knowledge and indeed the cradle of humankind, and this course enables an epistemic travel to Africa.

Interdisciplinarity is the driving force, decolonization and depatriarchization is in-built, and multiplicity of Africa is the intellectual adventure that you experience through and through.

The teaching staff is multi-disciplinary, affording and exposing you to diverse intellectual and academic traditions in African and Africanist scholarship. Thematically, you have a combo. Pedagogically, you will be taken through the pleasures of learning, unlearning and relearning."
---
What makes our programme unique:
The freedom to choose your own individual study focus, while centering Africa as an epistemic site of knowledge production


An interdisciplinary emphasis on the social sciences, combining the insights of sociology and politics, social and cultural anthropology, history, and the study of religion, each with a focus on Africa


A university on the forefront of interdisciplinary African research in Europe, with dozens of UBT professors and lecturers doing Africa-related research, a vast collection of Africa-specific book and media resources available through the university library, and the prestigious "Africa Multiple" Cluster of Excellence and the Bayreuth Academy of Advanced African Studies making UBT a hub for African Studies

---
Applications for entry into the programme are accepted each year from 1 March to 15 July. We encourage prospective students to apply early, especially if they need a visa.
Please note: Applicants from outside the EU who have obtained their degree abroad have to first upload the application documents via uni-assist (possible at any time of the year) and undergo a fee-based special procedure. This needs to be done at least 6-8 weeks BEFORE the July 15 deadline.